"I'm pulling a Pinocchio" Our marketing manager Tim said to me as he entered my office last week. Something I had not heard in quite a while… I felt the sudden but expected burst of adrenaline but the panic was quickly replaced by a few dozen questions about his decision. I gave myself a few moments to recollect as I told him: "Do what you have to do". After all, pulling a Pinocchio is not just about jumping into the deep or simply having the guts to do what needs to be done… In essence, it is about trust. Of all the valuable lessons that Walt Disney taught to the world this one is perhaps one of the most inspiring.
Our first Pinocchio
For us, 'the Pinocchio' was introduced a few years ago. We were working on a new version of our website. We had set our deadline months before and we were slowly approaching the set date. When I checked to see if Chris and Tim were satisfied they were positive at first but after a while they explained they had some doubts. However these doubts meant that the entirety of the website would have to be changed. I was hesitant at first, but then I remembered the story of Pinocchio…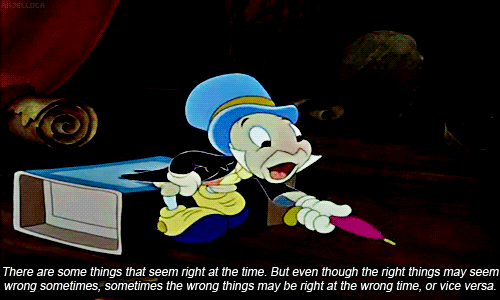 Pinocchio
I'm quite sure that everyone knows the original Pinocchio movie as it was published in 1940 and remastered every ten years or so. A revolutionary animation that possesses an extremely rare rating of 100% on Rotten Tomatoes.com. And rightfully so, the story of Pinocchio can teach us a valuable lesson. Although in this case, I am not talking about the importance of telling the truth or being brave, respectful and generous. The greatest lesson, perhaps, is learned from its production process and for that we have to rewind to the events that took place a little over 75 years ago.

Walt Disney and his staff
The origins of 'Pulling a Pinocchio'
Pinocchio was to be the second animated big screen movie from Disney Studios. Having set the standard extremely high with Snow White they were already under tremendous pressure to turn this film into a box office hit. Back in those days, every frame was hand drawn which required an incredible amount of time and labour. Irrevocable deadlines with cinemas were set to cover the costs and the point of no return was reached. With only a few months left they assembled every frame and viewed the film. When they saw the result, Walt Disney was not overly fond of what the movie had become. With little time left and these seemingly irreversible errors, they made a bold and fearless decision.
They decided the movie needed meticulous changes to meet the standards of Disney Studios. Within a few months the team almost completely remade the Pinocchio movie in a frenzy of sleepless nights and a lot of coffee (I would imagine). What was left was the masterpiece that poured from their canvas onto the big screen and into history. Our greatest 'Pinocchio'
This story became somewhat of a legend for our team at Plugged. Ever since we first heard it we have pulled quite some Pinocchios yet we have always met the expected deadlines. Our greatest Pinocchio was during our South-Korean adventure three weeks before the actual performance. I flew in for a meeting to view the video content our Korean Partner had developed based on a mutual agreed storyboard. We discovered that the video content for a 40-meter-wide wall was not meeting the desired level of finesse. As it was an important project for us, our client and myself decided to go for a Pinocchio.
With only three weeks left I decided to stay in South Korea. Together with a team of specialists we completely redesigned the video content to meet the desired expectations. As planned, we finished the content with only a week left so that we could start rehearsing with the dancers. We were overjoyed by the result of the video content when fate forced our hand to pull yet another Pinocchio…
Our dancing crew for one of our shows
As we started the dancing rehearsals it was immediately clear that the dancers that were recommended to us were not as fluent in movements as we had expected. This posed a challenge as they had to perfectly harmonize their moves with the animated content on the wall within days… With the help of some of our connections, which emphasizes the importance of local partners as I explained in my last article, we got in touch with the best dancing crew of South Korea. You might know them from the video from 'Gangnam Style by Psy'. This dancing crew took the performance to the next level with only a few days of rehearsing. Not despite but because of the Pinocchios we pulled the show turned out even better than we could have imagined.
Disney has always been a source of inspiration to us
Why everyone should take this lesson to heart
As I have stated before the necessity of pulling a Pinocchio occurs more often than one would expect. In our own experience this is inevitable in a creation process and I daresay we do not stand alone on this one. Disney's Pixar pulled another Pinocchio during the production of Toy Story 2 and Martin Luther King never even planned on using the words 'I have a dream', but these cases might be stories for another time. All of these examples including but not limited to the ones I have mentioned in this article have taught me a few things…
Surround yourself with a team that you trust completely
First of all I learned knowing when to start over, in the face of overwhelming odds, demands for truly listening to your heart. Often you just know something is not good enough. Dare to listen to yourself.
Secondly, the act of cutting the Gordian knot and actually make the decision to pull a Pinocchio calls for boldness and maybe a touch of madness. Prepare yourself by including check-ups in your planning so that you can discover possible hiccups early on. You might lose the invested time but if you insist on quality, dare to go for it.
Finally, the single most important thing to be learned is that it is not about bravery nor know-how. To take that leap of faith together and achieve your common goal on nothing but hard work and a lifetime supply of coffee requires something more than that. It takes trust in the people around you. Absolute confidence in each and every member of your team. Pulling a Pinocchio, especially when your team suggests it, is the way to go both for quality's sake, as well as for teamspirit. Trusting each other, that is the lesson to be learned.
Curious about my next article? Follow me on LinkedIn to stay updated!